How to use turmeric for weight loss? What are the slimming virtues of this miraculous plant? How to consume it to lose weight? What are the good recipes? And what is the right daily dosage?
Here are the answers to these questions about the use of turmeric to lose weight and other questions no less important.
I- What is Turmeric?
Turmeric is a perennial rhizomatous herbaceous plant. It is of the genus Curcuma of the family Zingiberaceae native to South or Southeast Asia since antiquity.
The homonymous spice is extracted from its rhizomes reduced to powder.
Turmeric is a fundamental ingredient of carrys or curries. It is especially present in the socio-cultural life of the Indian subcontinent.
In the latter, it is considered, with regard to its numerous properties, as a very exceptional plant.
These properties are food preservatives, spices, cosmetics, coloring agents, and medical.
Turmeric is the subject of several scientific studies around the world. These scientific studies are conducted to better understand the medicinal and food properties of turmeric.
Turmeric, therefore, is an important economic issue not only for India, which is the world's largest producer but also for several other producing countries.
Turmeric is an herbaceous, perennial plant with short stems that can reach more than 1 meter. It has several ellipsoidal rhizomes, aromatic or cylindrical, yellow to orange inside.
It also has large leaves, elliptical or oblong, lanceolate, which are alternated and distributed in two rows. Having described turmeric, let's now discuss how to use turmeric to lose weight.
II- How to Use Turmeric for Weight Loss
1. How to Make Turmeric Water for Weight Loss
You can buy organic turmeric powder or grind whole dry turmeric at home. Otherwise, you can also grate fresh turmeric root.
Ingredients:
1/2 teaspoon turmeric
a glass of water.
1/2 lemon (or lime)
1/2 teaspoon of honey
How to prepare it:
Heat a glass of water without boiling it
Add the turmeric powder
Let it simmer
Strain the concoction
Squeeze the half lemon
You can also add a little honey for taste
Drink this weight loss tonic at least once a day for maximum benefit.
For more benefits, make sure you drink turmeric water on an empty stomach. You can also choose to drink turmeric tea before exercising to increase your metabolism.
If you are on medication, you can drink two cups a day for fifteen days, then take a break for two weeks before eventually resuming.
While anyone can consume turmeric water to burn belly fat and lose weight, it is highly recommended to talk to your doctor.
2. Turmeric Lemon Recipe to Lose Weight
a- The Ingredients of the Recipe Turmeric Lemon to Lose Weight
To be able to produce a recipe turmeric lemon to lose weight, you need to gather the following ingredients: 1/4 teaspoon of turmeric powder, 1/2 yellow or lime, 1 cup of hot water, and 1/2 teaspoon of honey.
This is optional, but you can also have 1/4 of another spice such as ginger or cinnamon, and a pinch of black pepper at your disposal.
b- The Preparation of the Recipe Turmeric Lemon For Weight Loss
Regarding the preparation of this recipe, you must first heat the water while taking care not to boil it.
Then add the turmeric to the hot water, squeeze the half lemon and add the honey.
And finally, mix well, because honey does not dissolve easily and turmeric tends to settle at the bottom of the cup.
If you follow all this process, the preparation of a cup will take you 2 minutes.
c- How to Take the Recipe Turmeric Lemon to Lose Weight
You can take this lemon turmeric recipe whenever you want, however preferably, you should drink this recipe on an empty stomach.
If you are doing a cure, you have the option of drinking 2 cups a day, for two weeks, followed by another two weeks break before eventually resuming.
d- Why Add Black Pepper?
Because black pepper can be irritating to the intestines and stomach of some people, we have put it as an optional extra.
It is clear that this drink is mostly taken by people who want to relieve their intestinal pain.
But as we said above, the addition or combination of turmeric with black pepper gives very positive results.
e- Other Virtues of the Turmeric Lemon Recipe
We will only list the various virtues without going into detail.
Here they are:
This recipe reduces stress, it has a slimming action, it reduces inflammation, it improves metabolism.
It has antiseptic, antioxidant, anti-tumor, analgesic, antibacterial properties, etc.
It also has an alkalizing effect, a beneficial action on the whole digestive system, a beneficial action on the immune system, an analgesic action.
Also, It helps regulate blood pressure. In the same way, it takes part in the embellishment of the skin and the detoxification of the liver.
3- Turmeric Tea and Ginger to Lose Weight
The mixture of turmeric and ginger for weight loss is not a miracle product. However, it is very effective to accompany weight loss if coupled with the right diet.
To prepare such a tea or recipe, you need to have these different ingredients at your disposal: 1 large cup of hot water, 0.5 spoonfuls of turmeric powder, a few slices of fresh ginger, 1/2 lemon, a little cinnamon.
Regarding the preparation itself first, you need to add everything to the hot water, then squeeze the lemon juice and mix well to avoid the powder staying at the bottom.
And finally, sprinkle with cinnamon or add it in the form of stick infusion, this is optional.
This tea or recipe has slimming properties. While providing very few or no calories to the body, turmeric and ginger have a fat-burning effect.
This mixture not only facilitates digestion but also the absorption of glucose in the body.
The fight against fat storage is facilitated by the frequent consumption of this tea. It also favors the accompaniment of a high protein diet or "low carb" type.
This type of diet attacks directly the fat stored on the arms, hips, thighs, or stomach.
4- Turmeric Tea with Mint Leaves for Weight Loss
Turmeric tea is known to be good for the digestive system, which is essential for losing pounds.
You need to include turmeric tea in your daily diet, and to make it more effective and tasty, we suggest you to add this healthy fat burner and stimulator to your tea in order to lose weight.
All you need to do is to take a pot and add water to it. Add some turmeric to the water and bring it to a boil.
Once the water is boiling, turn off the heat and brew some mint leaves in the turmeric tea and enjoy this fresh and minty tea.
Brew mint leaves in turmeric tea and enjoy this fresh minty tea.
Mint leaves are very low in calories and high in fiber.
They also help prevent disorders such as indigestion, stimulate digestive enzymes, and convert fat into energy.
5- Turmeric Tea with Honey for Weight Loss
Honey is rich in enzymes and antioxidant properties that help our digestive tract dramatically and regulate the system naturally.
In this way, honey prevents the storage of extra fat in our system and helps reduce excess fat cells, especially when combined with turmeric.
Let's take a look at how this works.
– Mix 2 teaspoons of ground turmeric in 2 cups of water and simmer for 10-15 minutes.
– After that, turn off the heat and strain perfectly.
– Finally, add ½ cup of organic honey and stir it well into the tea. Make sure to use raw or organic honey for this solution, as most honey products found in the market contain artificial sugar, and needless to say, these types of honey will not help you lose weight at all!
Try taking this solution twice a day for the best results on your growing or unwanted fat.
Under no circumstances add sugar to it as this will only reverse the good effects.
Honey is known to suppress appetite and has anti-inflammatory properties that help you lose weight.
6. Turmeric Tea with Cinnamon Powder for Weight Loss
Cinnamon contains a large number of minerals and fiber that are essential for our health.
This tasty spice also helps with weight loss if you know how to use it! The powerful properties of cinnamon can encourage enzymes in our body and help us gain a fat-free body in the long run.
Naturally, this type of beneficial product will work more dynamically when combined with turmeric, which is another valuable natural ingredient to solve the weight problem.
Let's see how to use them together:
Take 1 teaspoon of cinnamon powder and 1 teaspoon of turmeric in a cup.
Then pour fully boiled water into this cup and add ½ tablespoon of raw honey to it.
Stir it finely with a spoon and drink it regularly in the morning.
Take this solution once a day and within a week you will get a desirable result on your overall weight.
Turmeric and cinnamon combined together help us to reduce insulin levels in type 2 diabetes and control bad cholesterol levels.
7- Turmeric Supplements for Weight Loss
There are hundreds of ways to take turmeric on a daily basis.
Some advise you to take a spoonful of turmeric and milk in the morning, while others recommend taking it with coconut oil.
Unfortunately, adding turmeric to every meal or simply eating the spice alone doesn't allow you to get the most benefit from the magic herb.
It's all about absorption.
Curcumin has a low absorption rate and low bioavailability, which means that if turmeric is loaded with beneficial compounds, the body has trouble absorbing and using it.
The spice contains only 3% curcumin, which can take a long time to see results.
Fortunately, turmeric is now available in convenient capsule form. So you don't have to worry about drinking a dose of spice without the delicious curry.
The difference between the supplements and the spice is the percentage of curcumin and the absorption rates.
Good quality turmeric supplements contain 1000mg of turmeric extracts that are standardized to contain 95% natural curcuminoids.
In addition to this, high-quality supplements also add another ingredient such as piperine to improve absorption, which allows the body to transport and use nutrients more easily.
Piperine is a bioactive alkaloid naturally found in black pepper, which helps increase the absorption of curcuminoids by 2000%.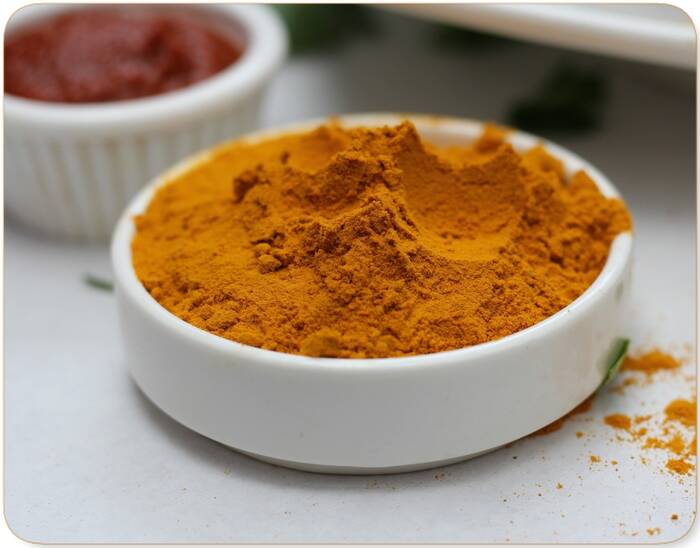 III- How Turmeric Works to Lose Weight
Turmeric, by making fats-soluble, facilitates the digestion of fat cells. It stimulates their digestion and evacuation.
It helps cells to absorb glucose in the body and stimulates fat cells to facilitate the elimination of fat.
Curcumin, the antioxidant contained in turmeric, reduces the absorption of bad cholesterol (LDL cholesterol) and low-density lipoproteins, increases the destruction of fat, improves weight and fat mass.
It, therefore, helps to reduce weight and body fat, and actively fights against obesity.
It is a spice that helps fight cellulite and unsightly dimples in the long term.
a- The Slimming Properties
Turmeric facilitates the digestion of fat cells as it makes the fat-soluble. It triggers their digestion and evacuation.
Also, it helps cells to absorb glucose in the body on the one hand and stimulates fat cells to facilitate the elimination of fat on the other hand.
A study conducted at Boston University and published in Atherosclerosis shows that curcumin, the antioxidant in turmeric, decreases the absorption of bad cholesterol (LDL Cholesterol) and low-density lipoproteins.
Likewise, it increases the destruction of fats, improves the body fat level and weight.
Thus, it favors the reduction of weight and body fat and allows to fight very actively against obesity.
In the long term, it is a spice that helps fight against cellulite and unsightly dimples.
b- Inflammation Due to Obesity
Inflammation is generally caused by obesity or excessive fat deposits in the body. An accumulation of pro-inflammatory substances is noticed in cases of obesity.
Adipose tissue produces substances called adipokines. Among these substances, some such as IL-6 and TNF-α have an inflammatory action.
The inflammatory action of these adipokines leads to the production of oxidative stress in cases of obesity or excessive fat deposits.
In addition, this inflammatory response leads to many other diseases such as metabolic syndrome, cardiovascular disorders, diabetes, etc.
Turmeric can be very effective in targeting the inflammatory action of adipokines as it is an anti-inflammatory substance.
The anti-inflammatory and antioxidant action of curcumin is known to target the inflammation associated with obesity.
c- Antidiabetic
In obese or overweight people, the risk of diabetes is more frequent and high. Therefore, prevention of this disease becomes very important.
Turmeric is recognized for its effectiveness in the prevention and treatment of diabetes.
Curcumin especially has a considerable anti-diabetic effect. The antioxidant and anti-inflammatory actions of curcuminoids should not be overlooked either.
These substances play an important role in reducing blood sugar levels. Similarly, curcumin has been shown to be very active against diabetes associated with obesity.
d- Brown the White Adipose Tissue
Brown adipose tissue plays an important role in the production of heat in humans.
The combustion of glucose and lipids promotes the production of this heat.
For the fight against obesity, this combustion can play a very important therapeutic role.
It has been noted that white adipose tissue can turn brown and become an energy-releasing tissue instead of a storage tissue. A neurotransmitter called norepinephrine plays a role in the function of brown adipose tissue.
The levels of norepinephrine, which induces the browning process, are elevated by turmeric. As a result, it is found to be a promoter of the browning of white adipose tissue.
e- Consume Turmeric to Lose Weight
It is important to know from the start that most of the time when you want to lose weight, turmeric alone is not enough.
Sometimes the curcumin in turmeric is not fully absorbed by the body. It is only partially absorbed.
You are strongly advised to consume turmeric with black pepper if you want to optimize this absorption.
By applying this tip, you will multiply by twenty the penetration of curcumin in the blood.
Therefore, it is strongly advised that if you opt for a recipe made with turmeric, you add black pepper to optimize the effects of turmeric.
f- Increases the Bile Production 
Curcumin, which is the main component of turmeric, has amazing antioxidant effects on the digestive system and stomach.
Turmeric also acts on the liver and gallbladder by stimulating the production of bile, which helps digest fats.
g- Iron deficiency
Iron deficiency is very often the main obstacle to weight loss. It plays an essential role in the production of all our neurotransmitters and therefore in emotional balance in general.
Turmeric decreases the level of iron in the blood.
Turmeric, like dairy products and prolonged fasting, inhibits the absorption of non-heme and heme iron, offering people who eat a lot of iron-rich foods (red meat in particular) a simple way to lower ferritin levels.
h- Kidney Stones
Obesity is a risk factor not only for the formation of kidney stones but also for many diseases.
The natural drink with ginger and turmeric is an excellent supplement to fight against kidney stones, provided that they are not too large.
Both ingredients are rich in active substances that help stimulate the cleansing of the kidneys and the elimination of waste products that contribute to the formation of stones.
i-Thermogenic Action
Burning calories in the body to expend energy is a process called thermogenesis. It is a process that promotes weight loss.
A practical approach to weight management is to increase thermogenesis in the body through diet.
Green tea and spices are many dietary products known to promote weight loss through thermogenesis.
k- Improves Digestion and Metabolism
The active ingredients in turmeric play an important role in the digestive process.
In general, turmeric improves the digestive process. This means that it stimulates all of our digestive functions, such as the secretion of bile.
Food is digested better and more easily. The gain in digestive comfort is not negligible, while digestion is much more efficient.
Of course, more efficient digestion also means a reduction of common gastrointestinal disorders.
IV- Turmeric Dosage for Weight loss
A precise and concise dosage regarding the intake of turmeric for weight loss is not established. For regular dietary use, turmeric is a safe product.
However, the bioavailability or absorption of turmeric by the body is a matter of great concern.
By using preparations associated with piperine, it is possible to improve the bioavailability of turmeric.
It should be noted that the dosage of turmeric cannot be the same for everyone. It varies from person to person.
The appropriate amount to be taken by a person is determined by the dose tolerated by their stomach.
V- Conclusion on the Combination of lemon and Turmeric to Lose Weight
Turmeric is a rich source of minerals and dietary fiber such as calcium, potassium, sodium, magnesium, and zinc.
It also contains vitamin A and vitamin E. Turmeric, the minerals and vitamins present, makes it an excellent food supplement.
Turmeric has, as we said above, several properties: antioxidant, antiseptic, anti-inflammatory and analgesic.
The antioxidant property promotes the treatment of cellular damage caused by free radicals, controls hunger, and improves the metabolic functioning of the body.
Curcumin, an active constituent present in turmeric, prevents the accumulation of fat in the fatty tissues of the stomach and liver.
Lemon is also a very rich source of vitamin C. Pectin is a natural fiber found in lemons.
It helps to reduce cravings and improves intestinal transit. It should be noted that the lemon also has cleansing properties and is rich in antioxidants.
And It acts as a fat burner, reduces digestive upsets, and considerably improves the basic metabolism.
A combination of these two fat burners, turmeric, and lemon, will only be beneficial in the case of a diet and sports for weight loss.
 VI- Caution and Side Effects
For consumers, turmeric has never presented any adverse effects. However, as a precaution, it is not recommended for pregnant and breastfeeding women to consume it in high doses.
In addition, turmeric can cause irritation of the mucous membranes if consumed in excessive quantities. Therefore, people with gastric ulcers should take it with great care.
Turmeric does not cause side effects if consumed in moderate amounts. However, it is not without side effects if taken in high doses. If there is no allergic reaction, these are safe.
VII- Association of Turmeric and Black Pepper to Lose Weight
As mentioned above, turmeric, a sweet spice, is a rhizome native to India. Its composition indicates a high content of beta-carotene and curcumin, an antioxidant acting directly on weight.
Turmeric facilitates digestion and the evacuation of fat cells, by making the fat-soluble.
Turmeric strengthens any organism weakened by a diet against dimpling and remineralizing.
The weight loss becomes even more significant with the help of the mixture of turmeric and black pepper. The latter contains piperine, capable of interacting with curcumin.
Curcumin becomes more easily assimilated by the body and the effects are multiplied as outlined above.
In addition, black pepper eliminates toxins from the body, limits bad cholesterol, facilitates digestion, and increases pancreatic juices.
It helps to lose weight in the sense that it promotes the dilation of the renal artery and increases the production of urine and perspiration.
You can prepare soups, drinks, desserts, sauces with turmeric and black pepper.
Also, there are many turmerics and black pepper recipe ideas, as well as detailed instructions on how to make turmeric and black pepper capsules.
VIII- Other Questions About Turmeric and Weight loss
# How Much Weight Can You Lose Taking Turmeric?
Curcumin, the main active ingredient in turmeric, can increase weight loss by up to 5% if you take 800 milligrams (mg) along with 8 mg of piperine – a compound found in black pepper – twice a day for 30 days.
# Can Turmeric Burn Belly Fat?
Turmeric is a culinary spice that has been used for centuries and has become an important part of weight loss recipes and beauty masks.
It is a good addition to a healthy diet and natural fat-burning food to slim down the body and get a flat stomach.
# What is the Best Time to Take Turmeric for Weight Loss?
Turmeric supplements work best on an empty stomach and should be taken at least 30 minutes before meals.
# Can We Drink Turmeric Water at Night?
Yes, it is advisable to consume turmeric at night as it improves sleep in many ways.
# Is Fresh Turmeric Better than Powder for Weight Loss?
Turmeric powder is obtained by boiling and drying the rhizome of the plant. It is now easily found in allspice aisles of supermarkets and organic stores.
Fresh turmeric is considered more aromatic, with a more subtle taste than powdered turmeric. It can easily be used in sweet and savory dishes.
Also, unlike powdered turmeric, fresh turmeric has not been processed in any way, which maximizes all its benefits.
# How Often Should you Drink Turmeric Tea?
Turmeric tea can be consumed 1-2 times a day, especially if you are using it for a specific health problem.
If you are not allergic to turmeric tea, which is quite rare, there is very little chance that you will experience toxic side effects if you consume too much.
Useful Links:
Curcumin: A Review of Its' Effects on Human Health